New v6 Features: Chord Recognition, Jam Tracks, New Songs, and Much More!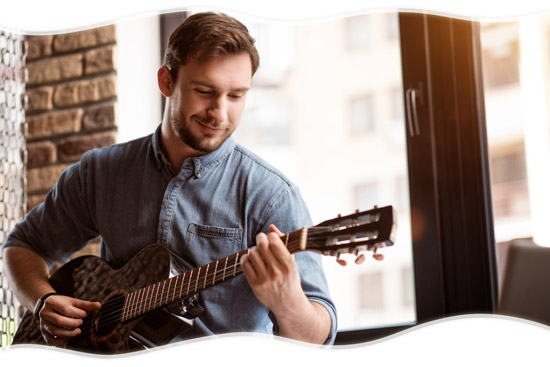 The Easiest Way to Learn to Play Guitar

Over 190 Step-by-Step Guitar Lessons

Arranged in twelve chapters, these incremental lessons cover the basics from holding, stringing, and tuning the guitar to playing chords and melodies, culminating in an explanation of fingerpicking styles, reading standard music notation, and a new chapter on ear training. Lessons include a variety of exercises and songs. In total, there are over 50 high-quality videos and over three hours of audio and video! On-screen teacher Kevin Garry, Ph.D., provides clear and friendly instruction.

eMedia Guitar Method features songs in a variety of genres to make learning fun and memorable – including Rock, Blues, Folk, Country, and Classical! Version 6 includes play along Jam Tracks as well as live-recorded audio and variable speed tracks. Over 80 songs include hits such as:

Bob Dylan ("Knockin' on Heaven's Door")
Rolling Stones/The Doors ("Little Red Rooster")
John Lennon ("Imagine")
The Steve Miller Band ("Rock'n Me")
Heart ("Dreamboat Annie")
Rod Stewart/Tom Waits ("Downtown Train")
The Grateful Dead ("Uncle John's Band")

Also included are popular songs, including "Wayfaring Stranger," "Scarborough Fair," "La Bamba," "Midnight Special," "Ode to Joy," "Minuet," "Greensleeves," "House of the Rising Sun" and many others.

Instant Feedback on Your Playing

Instant Feedback shows you when you play the correct chords or notes on your guitar as you progress through an exercise. With a microphone connected to your computer and a guitar in your hands, play the notes in the exercise (or song) on any screen featuring the "ear" icon in the upper right corner and the computer will highlight the notes for you in green. You'll discover that reading tablature and music notation is easier than you ever thought possible!

Performance Evaluation and Progress Tracking

When you're ready, you can switch to Performance Evaluation and get feedback on both pitch and rhythm to help you improve your playing! Earn up to a 5-star rating or view your score as a percentage. We've also added Progress Tracking so you can review your best scores and track your progress through the course.

Note and Finger Tracker

The Note Tracker and Finger Tracker tools makes it easier to see what note you're playing by displaying the note as music notation and on eMedia's Animated Fretboard. You'll be able to correct your playing quickly and learn to read music fast!

Flash Card Quizzes

Interactive Flash Card Quizzes

After you've been prepped with exercises designed to teach you to read tablature and notation, try the interactive flash card quizzes to reinforce what you have learned. Flash card quizzes utilize our Pitch Tracking technology to detect notes played on your acoustic guitar!

Over 50 Guitar Lesson Videos

Professional guitar instructor Kevin Garry, Ph.D., guides you in over 50 videos with demonstrations of techniques. Many of the videos include split-screen displays with close-ups for a clearer perspective. Watch them at the native size or in Full Screen mode.

Music Notation Display Options

Learn via guitar tablature or standard music notation through this easily accessible menu option.

Music Tracking

Highlighting of the music and lyrics as they're heard makes it easy to follow along on guitar.

Jam Tracks and Multitrack Audio

Dozens of Jam Tracks give you the fun option to play along with a full band.

Song Highlighting and Looping

Song looping lets you highlight and repeat any section of music you wish to practice.

Variable-Speed MIDI Tracks

Speed up or slow the tempo down as desired. Use this in combination with the looping feature, and you can learn at the pace best suited to you!

Animated Fretboard

The Animated Fretboard displays fingering positions as the music plays. It allows you to see exactly how to play the song on a guitar fretboard as you hear the music. Since you can highlight and loop any section of the music (or even double-click on a single note in the music), you can use the Animated Fretboard to make difficult sections or quick changes easier to manage and learn. The Animated Fretboard makes it simple to follow along with the lesson content. Includes option for both right- and left-handed views, and, just for fun, choose from six different fretboard skins modeled after classic guitars!

Guitar Tuner

Tune your guitar quickly and easily. A precision gauge allows you to play into your computer's microphone and tune up interactively. Reference guitar tuning notes are also included.

Chord Dictionary

With fingering charts and recorded playback for over 250 chords. Find new chords for songs quickly.

Metronome

Set your tempo and practice keeping a steady beat with audio and visual indicators.

Audio Recorder

Save your recordings and play back to share and compare.
Note: Once you master guitar basics like how to read guitar tabs and play basic chords, then eMedia Intermediate Guitar Method can provide more advanced guitar lessons. Start learning how to play guitar today!
Contents summary
Introduction
I. About the Guitar
Types of Guitars; Stringing; Tuning; Holding; Finger Position; Reading Charts; Simple G Chord.
II. Simple Chords and Strumming
Songs Introducing Simple C and G7; Full A7, C and D Chords; Double Strum.
III. More Chords and Adding Accents
Songs with Accents; Shifting Accents; 3/4 Accented Time; A, Am, D7, E, Em, E7, Full G Chord.
IV. Slash Chords and Chord Progressions
Songs with Slash Chords G/B, A/C#; New Chords Am7, Bm, B7, C7, Dm, F, Full G7; "Imagine."
V. Rock Strumming and Power Chords
Folk Rock; Syncopation; Power Chords A5, D5, E5; Palm Muting; Contemporary Rock Strumming.
VI. Playing the Blues
Introducing the Blues Rhythm: "Corrina," "Little Red Rooster" and Others; the 12-Bar Blues.
VII. Modern Rock Strumming and Movable Power Chords
Movable Power Chords and Riffs; Palm Muting in Modern Rock; Rock/Punk Strums; The Chika.
VIII. Reading Tablature and Playing Melodies
Tablature; Rhythmic Notation; Melodies – Folk to Classic; Boogie Woogie Bass; Blues Shuffle.
IX. Bass-Note Strum with Country Tunes
Popular Songs with Bass-Note Strum; Bass-Note Double Strum; Alternate Bass-Note Strum.
X. Fingerpicking – from Arpeggio to Travis
Introduced in "Scarborough Fair," "House of the Rising Sun," "Romanza," and Others.
XI. Reading Standard Music Notation
How to Read Music String by String; Rhythm; Time Signatures; Accidentals; Key Signatures.
XII. Ear Training
Introduction to Playing by Ear; Using Your Voice; Direction, Distance, and Duration.
Appendix
Button Symbols; Commands and Shortcuts; Song Looping; Tools (Animated Fretboard, Recorder, etc); Instant Feedback; Performance Evaluation.